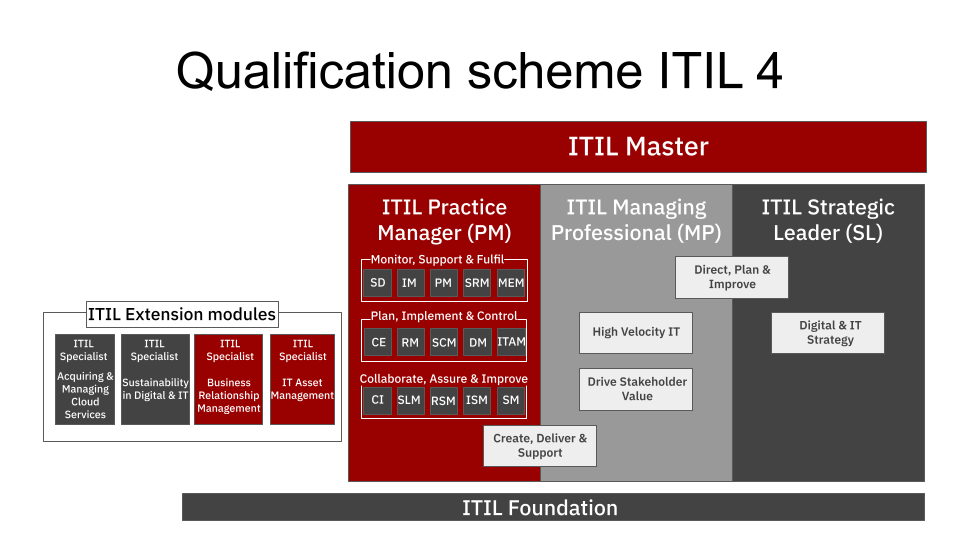 The ITIL4 Master certificate declares that its holder has all the necessary knowledge acquired through extensive training and demanding certification from the entire range of ITIL competencies. This qualification level represents a significant achievement for IT service management professionals.
PeopleCert, as a certification authority, has published all the conditions for obtaining the ITIL4 Master. This represents the acquisition of the ITIL Practice Manager (PM), ITIL Managing Professional (MP) and ITIL Strategic Leader (SL). To achieve them, the candidate must know, apply and analyze concepts, methods, principles and tools for service management. This knowledge is at a strategic, tactical and operational level, and the ITIL Master can understand business requirements, create a strategy and a plan for its implementation with the help of methods and tools so that IT services enable the creation of value for the organization.
OMNICOM, as an Accredited Training Organization (ATO) and an Accredited Examination Organization (AEO), provides all the necessary courses and certification to obtain the ITIL Master qualification, and the candidate thus has the opportunity to achieve this prestigious qualification "under one roof".
Some of the benefits of gaining an ITIL Master qualification:
Thorough understanding of ITIL concepts: The ITIL Master qualification will give you a deep and comprehensive understanding of all aspects and concepts of ITIL. This will enable you to effectively manage and improve processes and services in your or your customer's organization.
Ability to lead IT service transformations: The ITIL Master certification prepares you for a leadership role in managing IT service transformation in an organization. You will be able to implement and improve IT service management in accordance with ITIL best practices and standards.
Improved organizational productivity and efficiency: You will be able to identify and implement improvements in IT service management processes and procedures. This will lead to greater productivity, efficiency and quality of provided IT services.
Ability to solve complex problems: ITIL Master certification prepares you to successfully solve complex problems in the field of IT service management and process management.
Better career opportunities: Getting an ITIL Master qualification opens the door to better career opportunities. A high level of expertise and the ability to manage complex IT service management projects make you an attractive candidate for leadership positions and consulting roles.
Increased credibility and reputation: The ITIL Master certification strengthens your credibility and reputation in the field of IT service management. Obtaining this certification declares your expertise and experience in IT service management.