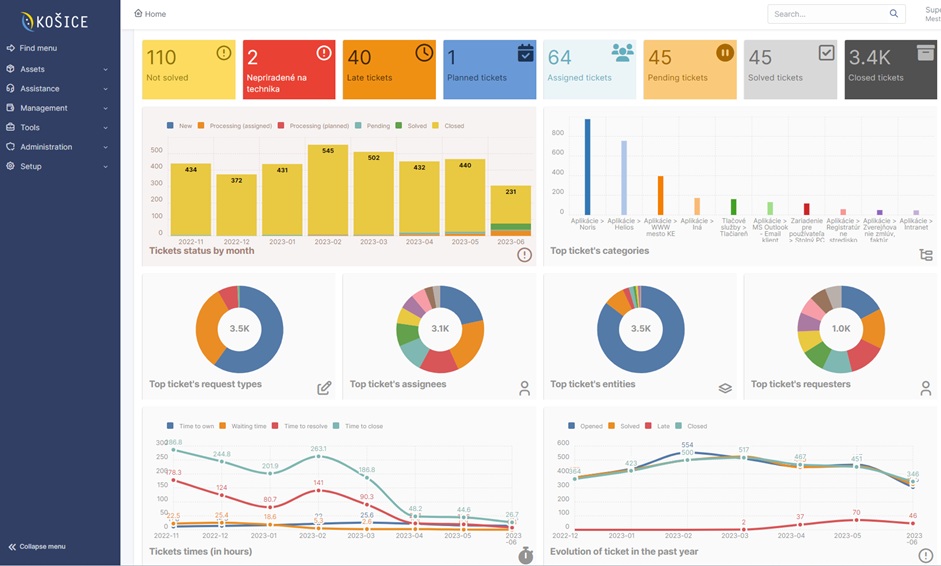 Project background.
The city of Košice had an ambitious IT infrastructure transformation program in place, which included several IT projects, one of which was the Service Desk project. The main objective of the Service Desk project was to set up IT and IT operations according to ITIL best practices, centralize IT, and standardize IT operations.
The challenge:
The project presented several challenges related to the large scope of the project. One of the most significant challenges was the need to include all existing IT technician teams from 12 city organizations. Additionally, all IT users of the city of Košice, totalling 1600 users, needed to be integrated as well. The objective was to have all IT requirements in one place, which meant consolidating all IT services and requests into a single system, making it easier for users to request services and for technicians to manage them.
The project implementation involved the introduction of ten ITSM processes (including Incident Management, Service Request Fulfilment, Change Management, Problem Management, Service Asset Management, Configuration Management, Knowledge Management, Supplier Management, Service Catalogue Management, and Service Level Management). For each of these processes, OMNICOM designed workflows and configured GLPI to support them (learn more about success story on the Teclib website).
City of Košice:
"The ITSM tool procurement selected the GLPI application by Teclib. It is an open-source solution. We required a robust system with support from a local Teclib partner that would ensure that one team could provide assistance from one location. The contested tool meets all our expectations and is open to further adaptations and changes."
"The supplier of the GLPI application – OMNICOM – was active from the time the tender was announced, it was clear that they cared about this project. They approached the client professionally and were interested in clarifying all the details of the assignment. Even during the design of the solution and its implementation, we perceived the positive and professional approach of the project team. We are currently in the phase of post-implementation support and continue to work together to improve the tool. We are extremely satisfied with the supplier."